Most of us understand timing for a wedding or event can run into some very hot circumstances. The Wedding Coach on WedddingLinks.co offers some quick tips and ideas for your Wedding and Reception Guests.
There are methods to be more comfortable when the days are hot. It all begins with the location you choose. When booking the location ask about the weather for the dates you are considering. Ask how they handle the extremes. If the site is not air-conditioned, you might consider booking the venue for early in the day ceremony and a brunch reception, or an evening wedding and celebration.
Photo by Judith Rivers-Moore - Tahiti Hot
Try to stay away from ceremonies during the hottest part of the day - from 1 to 4 pm in the afternoon. Also look for tree shaded event location if outdoors, or you can use umbrella tables for the lawns. We have found the modern tents can be rented with an air-conditioning set ups.
TIPS For Hot-Weather - Wedding Planning:
1. Beat the heat at your event by providing misters, now available from the party rental companies.
2.
Old fashion remedy under dresses is good old talcum powder near joint areas. Also provide sun block for outdoor receptions/events - people sometimes forget to put it on.
3.
Rent Shade Awnings for lawn areas, especially helpful over food and beverage tables.
4. Choice of lighter colors when it is a summer/fall wedding. Dark shades, black tuxedos or dresses make people appear hot and they do absorb more heat.
Photo by DUPhotography.com
5. Plenty of water. In pitchers, punch bowls and bottled, will quell the heat. Alcohol drinks heat up the body. A bottle of beer, hard liquor, or a glass of wine all have the same alcohol content.
6. Hand held fans imprinted with your date and photo are a great keepsake and to provide guests. They can be personalized with significant photos, dates and event info for the guests.
7. Collect some fun sun hats at the used clothing stores and offer them at the entrance to your ceremony or reception.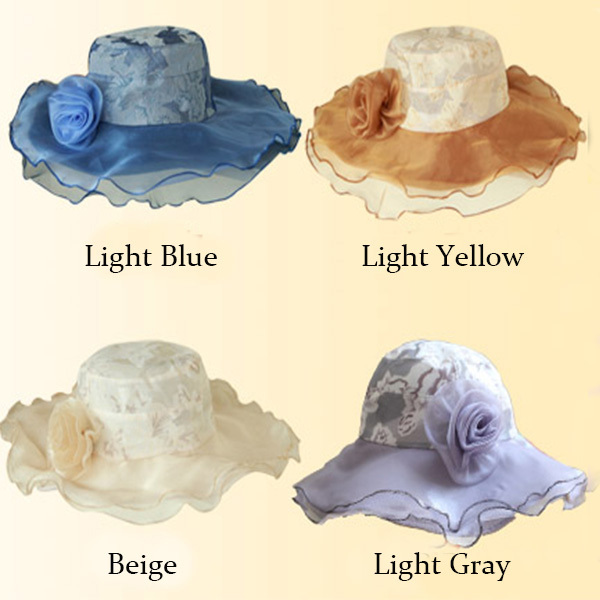 Photo by Aliexpress.com
8. Individual White parasols are lovely for the guests, but as a guest sitting behind them, it is difficult to see past an umbrella.
9. Someone feeling faint, seat them – place head down to knees, and place ice pack or cold cloth at back of neck.
Find Local & Global Wedding Locations & Services on our websites.